Our Mobile Content Creation workshop is a fun and practical day of learning just how powerful your smartphone or tablet really is as a content production ttool. Thisworkshop will show you how to plan and create engaging multimedia content for use on your online platforms such as your Facebook page.
The day covers all key facets of the process, from conceptualising and planning your approach, to shooting, editing, finessing and publishing – all from your smart device.
You'll learn how to create multimedia content that really resonate with social media audiences, incorporating audio, video, text and photography. We'll cover various need-to-know tips, tricks and techniques, and give you guidance on recommended equipment and free apps.
There's something for everyone in this workshop, whether you're a small business owner looking to reach new customers in creative ways, an NGO looking to give extra legs to your fundraising efforts, or a journalist who needs to know how to quickly produce and share social media content from your phone when out on a story.
The workshop covers:
Intro to mobile content creation: Overview of mobile content types and trends. What kind of content works well? Who's your audience and where are they?
Equipment and technique: We take a quick look at useful extra gear such as tripods/grips/mounts and microphones) before jumping in to a practical overview of mobile content production tips and techniques.
Apps: How to use a variety of recommended (and mostly free) apps for recording, editing, packaging and publishing content.
Planning and concept: How to choose, create and combine the best elements to include in your content.
You'll have plenty of time to plan, shoot and edit your own work of art/science/magic on the day, with 1-on-1 guidance and feedback from our trainers. You'll leave inspired and equipped to create content you never imagined before, using just your phone or tablet.
"This is a course that provides you with valuable information and practice to produce engaging content for your social media platforms. It was an inspiring and fun day of training and obviously hugely beneficial to our network." – Hilda Gertze, Coordinator, Philanthropy Leadership Network
"This was a very valuable learning opportunity and a rich success." – Thabo Bopape, Learning Coordinator, UCT TV
Here's a fun video we made in about five minutes (on a phone) during a previous Mobile Content Creation course: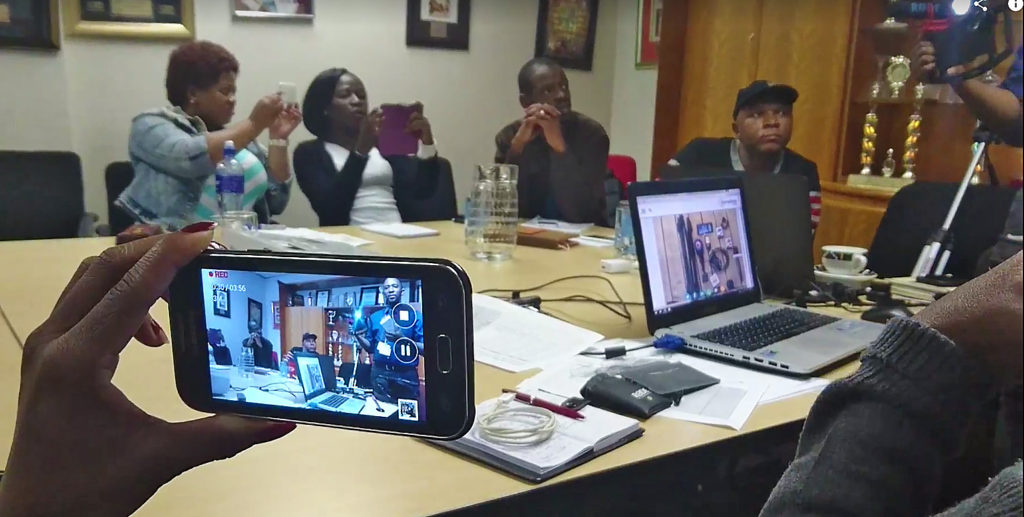 Mobile Content Creation is an essential skill for journalists. 
Read about our successful Mobile Content workshop at UCT TV
Watch how Social Weaver's mobile journalism training has been implemented at SABC News: